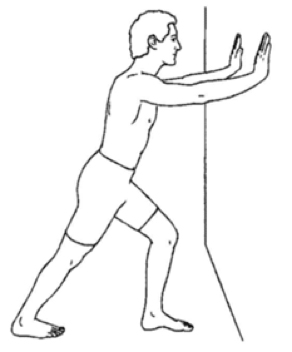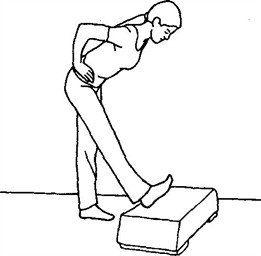 Spring brings with it warmer weather, brighter colors and an opportunity to rediscover mother nature. You may be wondering about how to begin a walking program to explore the outdoors. Walking is an excellent aerobic exercise that can help you, on your path to becoming healthy, losing some weight and sleeping better.  Always check with your doctor/physiotherapist before beginning any exercise.
How do I begin?
On day 1, congratulate yourself for embarking on this journey. Start slow and steady with some stretches for 5mins. Here are some great ones to start with:
Hold these stretches for 15 seconds and repeat 3x for the warm up. After you have stretched, start with walking at your normal speed for 10 mins. Cool down after the walk with the same stretches if you wish.
Increase the time walked by 2 minutes every day until you have reached your desired walking time.  You can set your goal to a total of 25 mins of walking with a 5 minute warm up and 5 minute cool down period, 5-6x/week.
To increase the challenge once you are comfortable walking, you can try increasing the speed but remember you should be able to carry a conversation during your walk.  If you are out of breath and can't talk, you are most likely walking too fast.
Indoors vs. Outdoors:
If you have a treadmill at home begin walking as instructed above. You can increase the speed and incline to your desired level to challenge yourself further.  If you are at the mall or at the grocery store, to increase intensity try taking the stairs during your walk.  You can challenge yourself further by adding lunges or carrying weights during your walks.  Walking outdoors on uneven ground is a great way to challenge your balance but always be on the lookout to avoid any obstacles.
What type of footwear?
Make sure you choose footwear that provides your feet good support.  If you are in pain because of uncomfortable footwear it may deter you from adhering to your walking program. If you have foot pain during prolonged walking and standing keep reading to find out if orthotics might be right for you.
What about Nordic Poles for walking?
Research has shown that using Nordic poles engages both the upper and lower extremities.  Nordic poles help with maintaining an up-right posture during walking and are beneficial for improving how you walk especially in those individuals with poor balance.  One study found that using Nordic poles increased activation of upper extremity muscles (ie. biceps brachii, triceps, deltoid medius, and latissimus dorsi) more than the group that didn't use the poles.
Motivational Tools:
It can be helpful to track how much you are walking every day to help you see your progress and meet your goals. A pedometer can you help you with this. Nowadays there are many accessible devices/apps that will track the number of steps taken, calories burnt, total activity time and your heart rate. A healthy adult walks about 10,000 steps, which is roughly 5 miles.
If you enjoy social outings, get your friends/neighbours involved in a walking program. What a great way to get caught up with each other while getting a great workout!
There is evidence that says that if you have a dog it might motivate you more to go out for a walk. Our furry friends are like us, we all need some fresh air and exercise.
If you enjoy hiking, there are some wonderful trails in the greater Toronto area which are very accessible.  Google hiking in the GTA to get a complete list.  For example, enjoy a pleasant stroll at High Park to see the cherry blossoms scheduled to bloom in April.  Take care of yourself and Happy Walking!
Written By: Sabrina Hossain PT
Reference:
"Beginner Walking". com. N.p., 2017. Web. 23 Mar. 2017.
"Get Walking With This 12-Week Walking Schedule – Mayo Clinic". Mayo Clinic. N.p., 2017. Web. 23 Mar. 2017.
Shim, J. M., Kwon, H. Y., Kim, H. R., Kim, B. I., & Jung, J. H. (2013). Comparison of the effects of walking with and without Nordic pole on upper extremity and lower extremity muscle activation. Journal of physical therapy science, 25(12), 1553-1556.
Reid, K. J., Baron, K. G., Lu, B., Naylor, E., Wolfe, L., & Zee, P. C. (2010). Aerobic exercise improves self-reported sleep and quality of life in older adults with insomnia. Sleep medicine, 11(9), 934-940.
Johnson, R. A., & Meadows, R. L. (2010). Dog-walking: motivation for adherence to a walking program. Clinical nursing research.
Start a walking program this spring!